The fact that Hail, Pomona, Hail was written for a minstrel show is noted by several authors significant to Pomona's history, such as:
A letter written to the Pomona College Magazine in the Spring of 2002 from alumni Carl L. Olson '66 acknowledges the song was written for a blackface performance:
"Congratulations on the music theme for the winter issue. Pomona has a truly rich history.

William G. "Doc" Blanchard started an enduring music career at Pomona in 1936. In 1966 he and I collaborated on creating The Songs We Sing at Pomona (Second Edition) to capture the developments since the first edition in 1943. We wanted the it to be a thorough Pomoniana music book, not just in sheet music but in extensive histories of the songs and numerous photos extending as far back as 1892.

In order to be as accurate as possible about the origins of "Hail! Pomona, Hail!", I tracked down a photograph of the blackface show for which it was originally written in 1909. Because I had departed for Columbia University in 1966, I was not around on campus in 1968 when the songbook was finally printed. Somehow that blackface photo was the only one that was omitted from the ones that I had designated, and the text of the narrative had mysteriously been altered to say "minstrel" instead of "blackface." This was an unsettling departure from the academic honesty that is the norm of Pomona pride.

As for the song Torchbearers and its evolution from a refrain of a song from a dance of Cahuilla tribe members at a Feast of San Luis Rey in 1890, it should be noted that it was not a " Native American" composition. The Cahuilla people and the hundreds of other distinct ethnic peoples of North and South America are not branches of "Native Americans" any more than Spaniards and Serbs are blood brothers under the term "European."

In a future issue of the magazine, it would be fun for all to see these fascinating photos and song histories. There really is something for everyone."
--Carl L. Olson '66
Woodland Hills, California
Richard Loucks, in a collection of personal notes, letters to and about, and news articles featuring him, discusses his history as a musician at the college.

In the quote below he specifies he wrote the song for the "olio" or final act of a blackface performance:
"A day or two prior to dress rehearsal we found we had no closing chorus for the Olio.  Considered a belacher song  but preferred something new if available.  I cut a few classes and got busy.  Result: Hail Pomona".

Loucks notecards: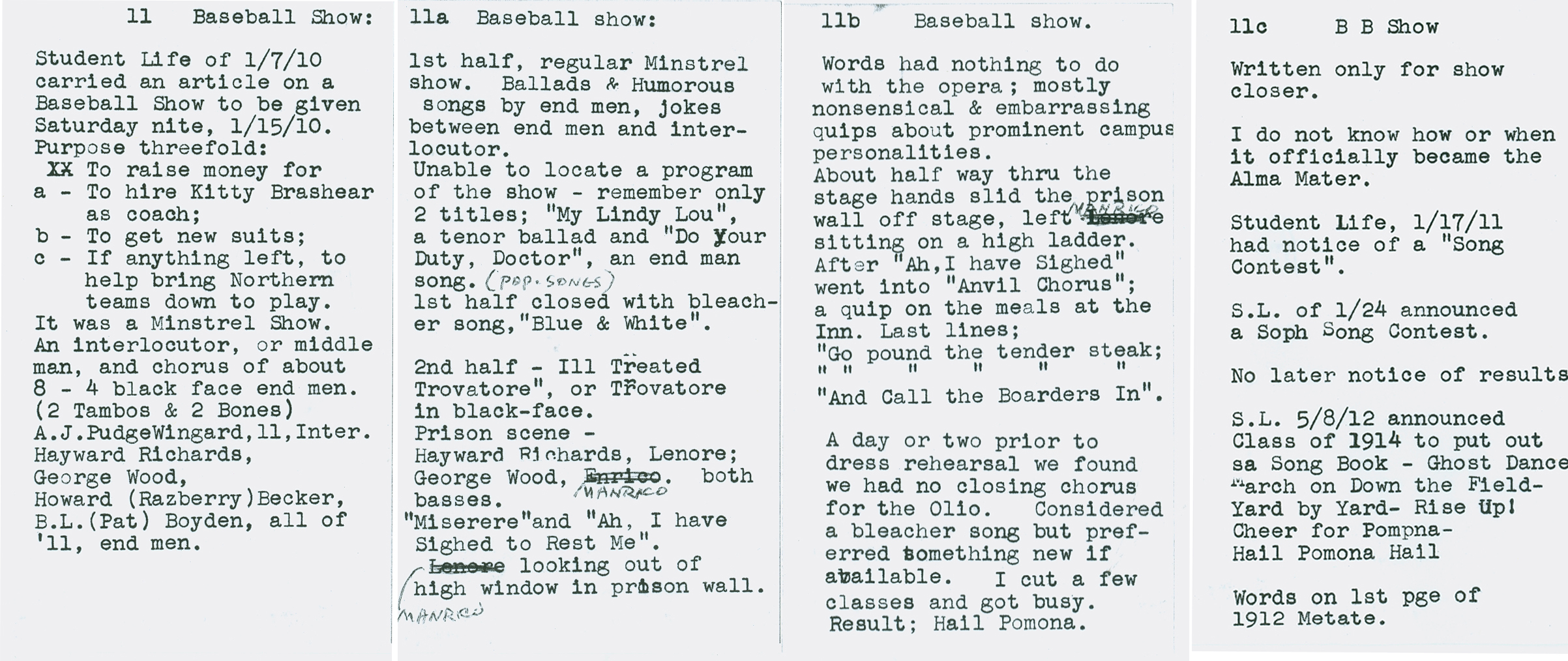 In his notes he writes that the song was "Written only for show closer." And that he does not "know how or when it officially became the Alma Mater."

Though in a interview he gave later on, he describes the situation where the song was adopted:
"Dean Norton came to Bill Clarey and Bill was sort of a student leader, a very serious fellow, but he had alot of humor. He told Bill that he would like him to persuade the students that it is not proper for the college to accept this as something that was the work of somebody that the college didn't think was worthy of staying in the college. When that got out, I think that's what got the vote. That's not for publication"
-Richard Loucks

Loucks interview:
(Part 1 of 4)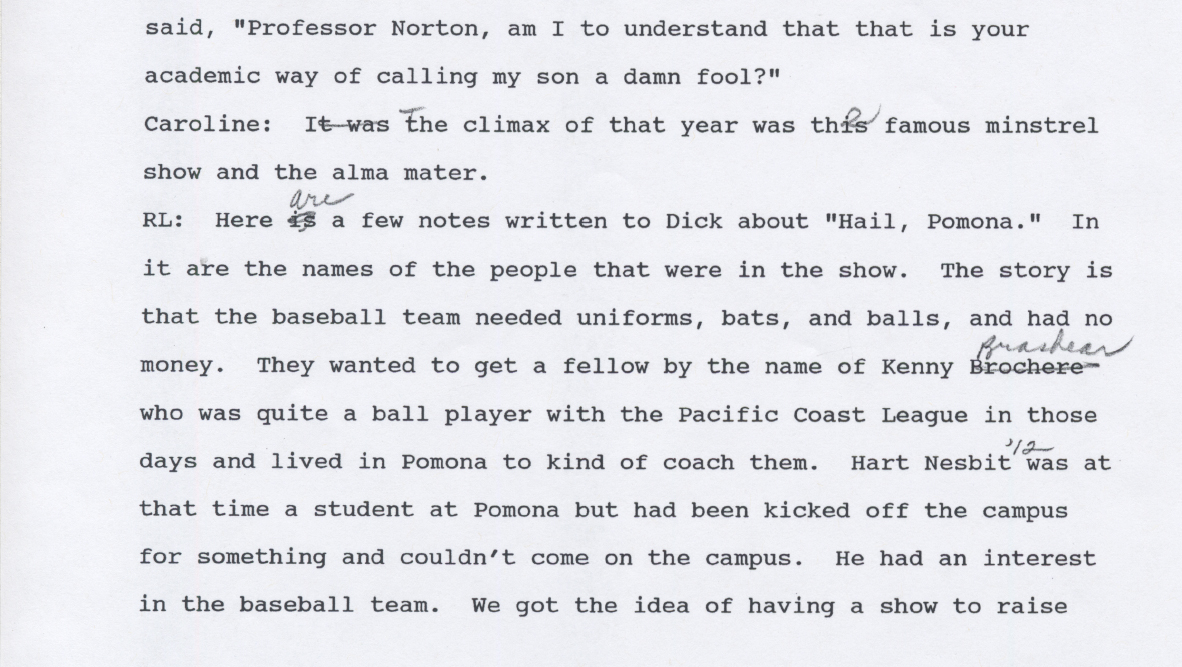 (Part 2 of 4)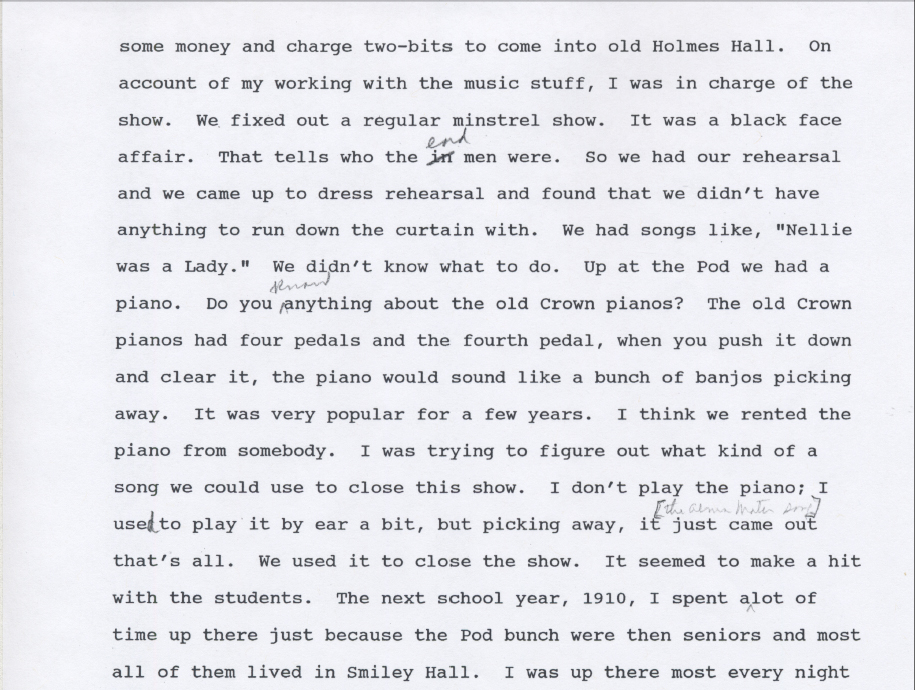 (Part 3 of 4)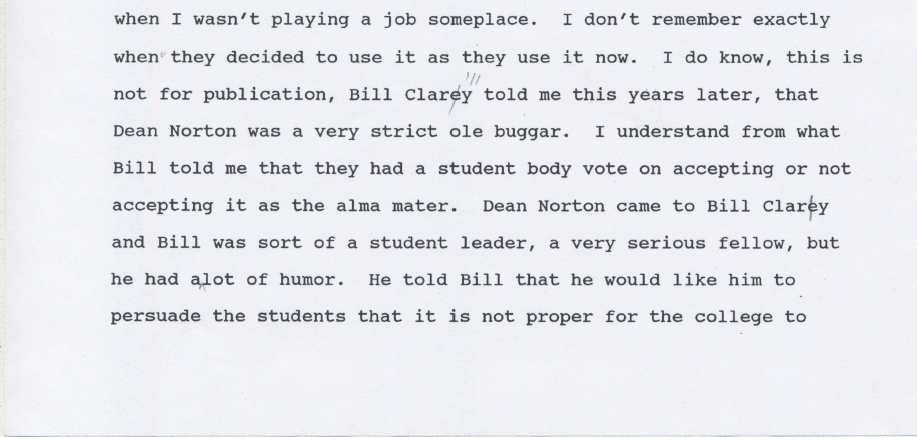 (Part 4 of 4)